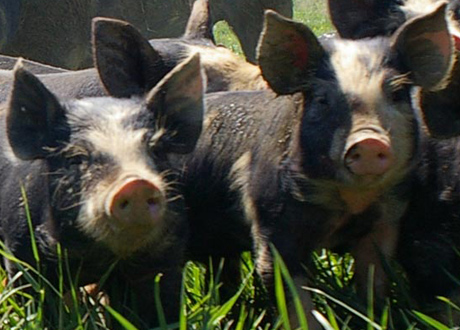 100% Purebred Berkshire Pigs – One of the oldest breeds whose origins trace back to England where the Berkshire became the favored breed of English royalty.  The royal family still maintains a large herd of this heritage breed known for its delicious, moist, marbled and succulent meat.
Our Berkshire pork will be available by Pork Share, as part of the Omnivore's Delight Farm Share, and by individual cut.
BERKSHIRE PORK SHARE: A Selection of the cuts listed below. Each cut comes with recipes and cooking tips. Approximately 20-25lbs. Each cut individually packaged in a vacuum seal. USDA inspected. Price of share will be calculated on actual weight of share with a 10% discount on total.
To place an order, contact us at leslie@cedarrisefarm.com
PORK TENDERLOIN   $10.00 LB
PORK LOIN ROAST     $8.00 LB
PORK CHOPS  $7.00 LB
BOSTON BUTT ROAST  $6.00 LB
SPARE RIBS $6.00 LB
GROUND PORK (90% Lean)  $6.00 LB
PORK SAUSAGE HOT OR MILD  $6.00 LB
Berkshire hogs sold whole or by the half hog or specialty cut – contact us for pricing.